Vantage Family Western Regional Service Center Now Open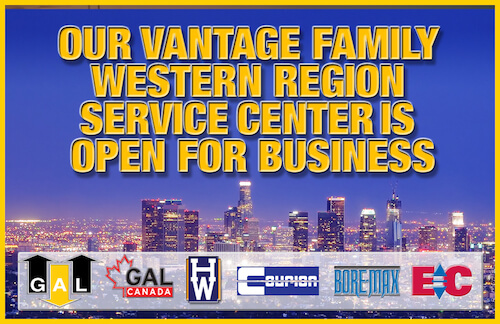 In September, the Vantage family debuted its newest Regional Service Center of the year in Los Angeles. This new Service Center is located at 9704 Jordan Circle in Santa Fe Springs, CA and features a large area for display equipment and products from the entire Vantage family, which includes those from GAL Manufacturing, Hollister-Whitney, Elevator Controls, Courion, Bore-Max and GAL Canada. In addition to the fully stocked warehouse and a special area for training and education, the new Center also provides elevator professionals with the services of Jim Goss, Regional Field Engineer and Dena Caldwell, Customer Service Representative.
Emery Wilcox, Western Regional Vice President, sees the Los Angeles office as an essential step forward. "It will allow us to provide the best service and technical support, which is critical to our mission. It also gives our customers easy access to some of the most highly respected lines of products found in our industry today."
For further details, be sure and visit our new facility or contact: Emery Wilcox, Regional VP, 572-777-0170, email emery.wilcox@gal.com .
Back to News