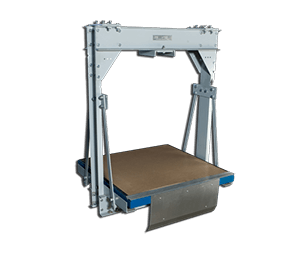 Car Slings & Platforms
At Hollister-Whitney, we supply you with a complete line of passenger and freight car slings and platforms for both hydraulic and traction installations.
Each car sling and platform assembly is supplied complete with channel stiles, crossheads, gussets, braces, cable hitch plates (traction jobs only), cutout for sills, 26GA fireproofing on underside of wood platform and one toe guard.
Each sling and platform is engineered to the specific application, options include; over-slung or under-slung 2:1 roping, corner posts, multiple passenger openings and anything else the conditions might require.
Product Documents